October 29, 2018 19:13 UTC
For those that don't know, gab is an alternative social media platform in the vein of Twitter. I guess you could call it a sort of micro-blogging platform (although I think that term is out of vogue nowadays). Their motto is "Speak Freely" and they really mean it. Unless you're posting stuff that is illegal (primarily according to US law I think -- e.g. child porn, etc.), there is no censorship by gab. This of course means there exists some extremely uncomfortable and controversial stuff there (for example: Jew hating, racism, all the flavors of NSFW content, etc.), but with the muting and blocking features afforded to every user, you can filter things to your liking fairly well. You can't do that in Twitter.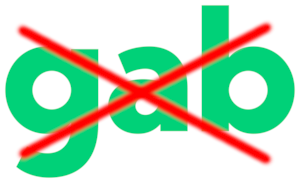 When it was revealed that Robert Bowers, the Tree of Life Synagogue shooter, posted an only after the fact ominous message to gab, the media and their techno-leftist enablers pounced. They smeared gab (yet again) as an alt-right/Nazi home base of sorts and placed responsibility for the shooter's actions on gab. Setting aside the fact that pretty much every shooter, murderer, bomber, rapist, etc. in the last 6-10 years had a Twitter or Facebook account, all of gab's integral service providers -- almost in unison -- decided to drop gab as a customer. Not only was it nearly in unison (they were hours apart), but the amount of notice afforded gab made it effectively impossible for them to NOT go offline for an extended amount of time. They're offline now. Completely no platformed. They were Info Wars'd.
It's appalling what has been done to gab. It's unfair, but more importantly it's down right scary. The techno-leftist in their ivory towers of Silicon Valley have WAY too much power and are no longer afraid to brazenly exercise it. This is only going to get worse.
Here are some of the better takes on the whole situation from some of the alt-media types. Have a listen. Oh... and just because I link to someone doesn't mean I agree with everything they have ever said or will say. Damn NPCs.
Styxhexenhammer666
Timcast
Sargon of Akkad
Dave Cullen

Finally... here's @a (Andrew Torba - CEO of gab) nicely demonstrating the hypocrisy that exists with Twitter. It's amazing.