February 27, 2017 — Mike Gauthier
Sabo delivered some interesting street art poking fun at all "our betters" attending the Oscars. Who cares what a bunch of entertainers think about the world anyway? The media (fake news?) gives them way too much credibility... as do our youth unfortunately.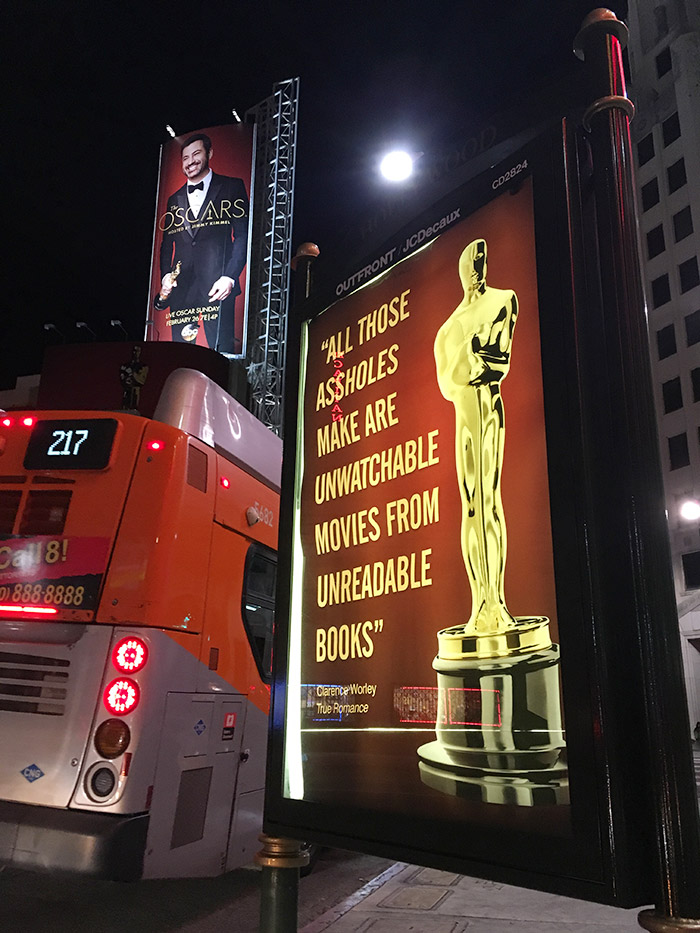 January 21, 2017 — Mike Gauthier
Sabo has returned with some street art targetting the protests during President Trumps inauguration. Sabo is the LA based artist who is most known to me for this very cool piece on Ted Cruz.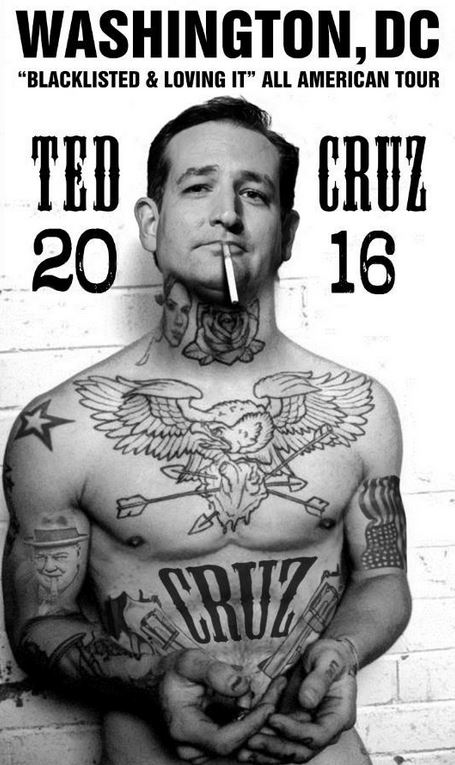 This latest one is quite appropriate given the content of Trump's inauguration speech.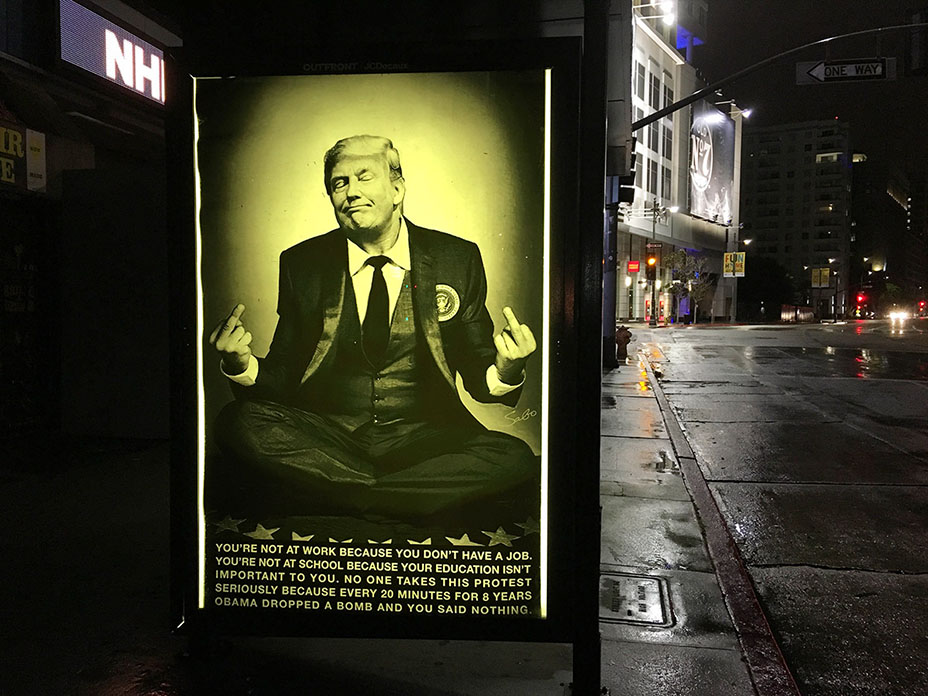 January 20, 2017 — Mike Gauthier
We now live in a world where Donald Trump is the President of the United States. As many problems as I have with the man, I was very happy to hear his inauguration speech. It was so nice to here someone talk up America and not bash it like the last President did continously.
Tags: politics
January 11, 2017 — Mike Gauthier
The PEOTUS, Donald Trump, is owned by the Russians, is a sexual fetishist, and is just generally a nightmare... or at least that's what we're being force fed. Except...
This summary here (pastebin.com) seems to indicate that Rick Wilson, the US intelligence services, and CNN/Buzzfeed/"the media" may have been strongly trolled. I'm not a big fan of the PEOTUS, but he at least deserves a fair shake and some journalistic integrity.
WikiLeaks says (twitter.com) the intelligence report published by Buzzfeed is nothing of the sort. I think of any group, WikiLeaks would know.
Buzzfeed just went with it... like Buzzfeed does. I won't even bother linking to that crap site. CNN wrapped it up (cnn.com) in a bunch of serious sounding "allegations". There is even a video of the previously respected Jake Tapper leading the "unsubstantiated", "unverified", unfair, crap show.
John Nolte over at The Daily Wire, rightly, just trashes the whole "Fake News" game and the complete corruption in much of mainstream journalism.
With a breathless breaking news report, left-wing CNN went first. To no one's surprise, the once-respected Jake Tapper took the lead. Undoubtedly CNN's overall goal was to offer up the imprimatur of "journalism" so that a batch of leaked and completely unsubstantiated anti-Trump documents could be dumped on the American public the night before the President-elect's very first press conference.
This is going to be very trying administration.
Tags: politics
January 05, 2017 — Mike Gauthier
My youngest daughter plays softball. Last season everything started to click and it became something serious for her -- so serious in fact she now likes (and wants to continue) catching. With all this new found seriousness, she wants to play up and/or play travel ball. And if she's going to do that, she needs a new glove (really because she's outgrown the one she has).
While she bats righty, she does throw lefty and this means we're on the hunt. The lefty softball glove is apparently a thing of mystery... a myth... a story told to young aspiring softball players to scare them into becoming a righty regardless of their being right brained. We have found them online, but buying a glove you've never tried on is not the best of ideas. So, the hunt continues today.
We're about to embark on what will likely turn into a 3-4 hour round trip. We're headed to a place that has, with eyes-on while I was on the phone, "loads" of 10-12 inch lefty softball gloves on their wall RIGHT NOW. So before word of this incredible find gets out and all the lefty softball players in the area rush the joint, we're off!
Update: A glove was captured, gentled, and added to the stable of sporting equipment. Popeye's was good too.
Tags: sports
January 03, 2017 — Mike Gauthier
This is from a README.md file that was last updated on 2016-07-02.
WHAT IS IT
This is a simple set of scripts that allow for the creation of temporary email addresses that will expire after a certain amount of time. These addresses can be used for things like signing up to website one isn't sure about or to test certain products using an email address that will go away (forcing rejects back to the sender).
Initially, this will simply generate email addresses in the following format.
<word>.<random hex string>@<domain>
For example.
chard.6d06@3cx.org
These email addresses will be added as aliases to the system's /etc/aliases file. Each transient address and its expiration date will be tracked via a mechanism outside of the /etc/aliases file.
Installation instructions and the scripts can be found after the break.
January 01, 2017 — Mike Gauthier
The project is effectively complete. I still need to fill a few nail holes with some wood putty, but aside from that it's done.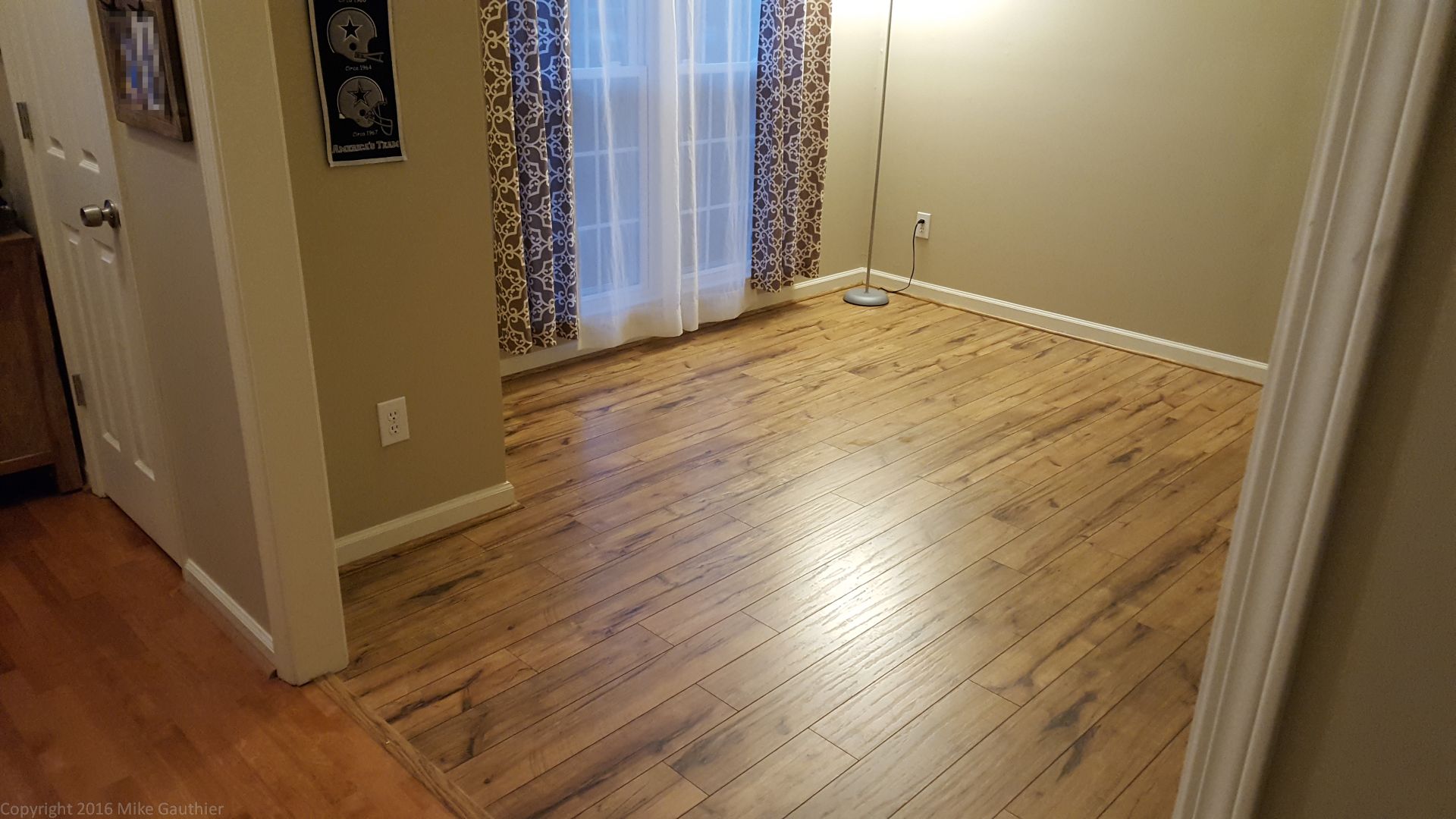 Putting a floor in is hard work. It's not difficult work as long as you plan it out well ahead of time, but it's tough on the knees. Now, if I spent my life working construction or something similar, this would probably be no big deal. But I have a bum knee and have been in IT my whole life. It's a good thing I'm in shape. ;-)
A few notes on tools
A table saw may not save you as much time as you think. I have one and I spent loads of time walking to and from it. If you can move the table saw close to the room you're working in, this will help a lot. Alternatively, a mitre box and a backsaw may be a better alternative (perhaps not for your cutting arm though).

A miter box and backsaw (or powered miter saw) are integral when putting down the quarter rounds. You'll need to make a few miter joints -- possibly many depending on the size and shape of your room. You can use a table saw set to 45°, but wrapping your head around how to the make the right cut can be a challenge. With a miter box/backsaw, it's super easy. You just see it and cut it.

If you have a curved wall (an "imperfect" wall) and need to make a curved cut for your first or last row of planks, you can use your table saw for the curve (assuming it's not a significant angle). Just be sure to start your cut on the small entry angle end. It makes it easier IMHO.
Some pics of the finished product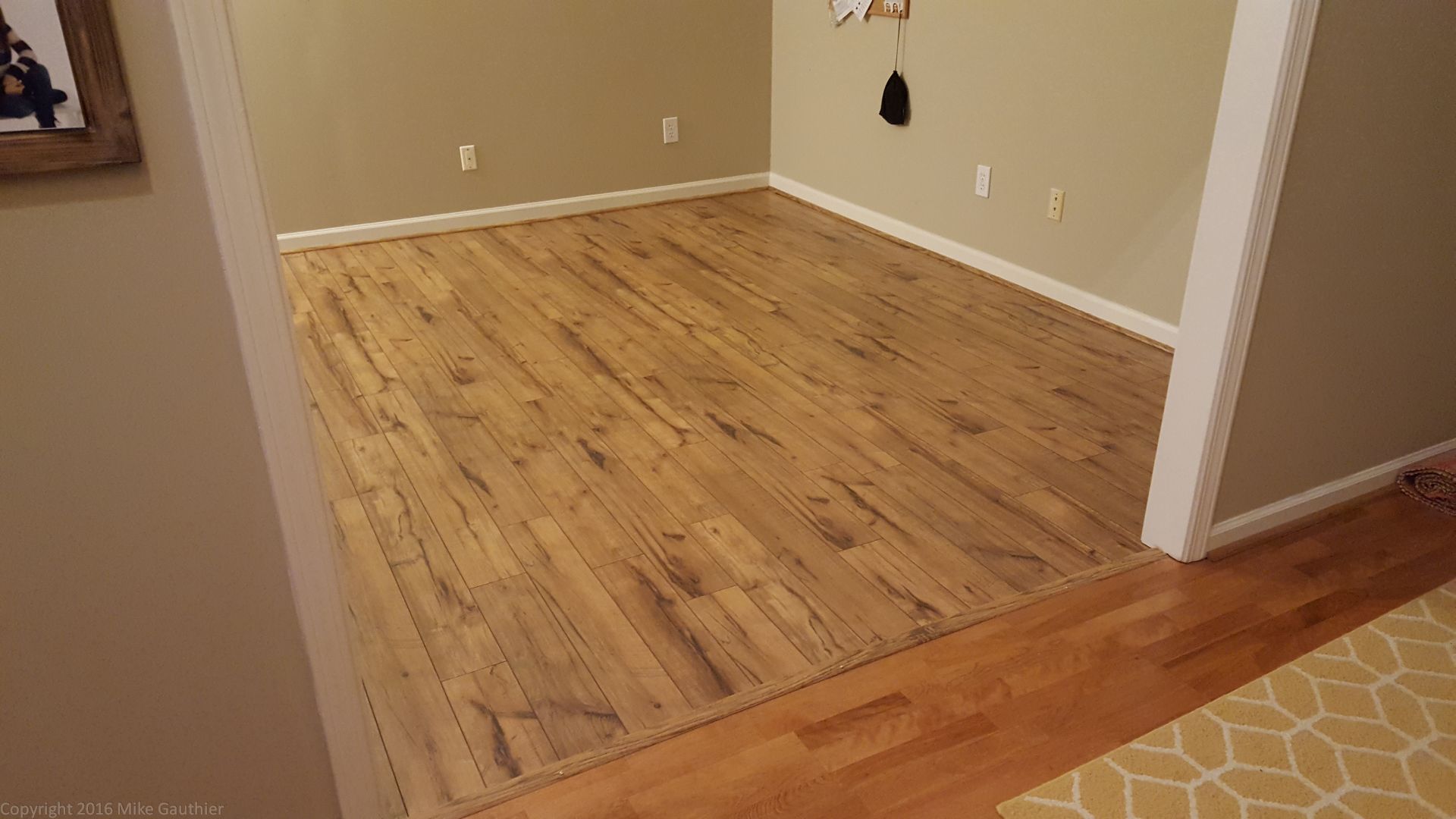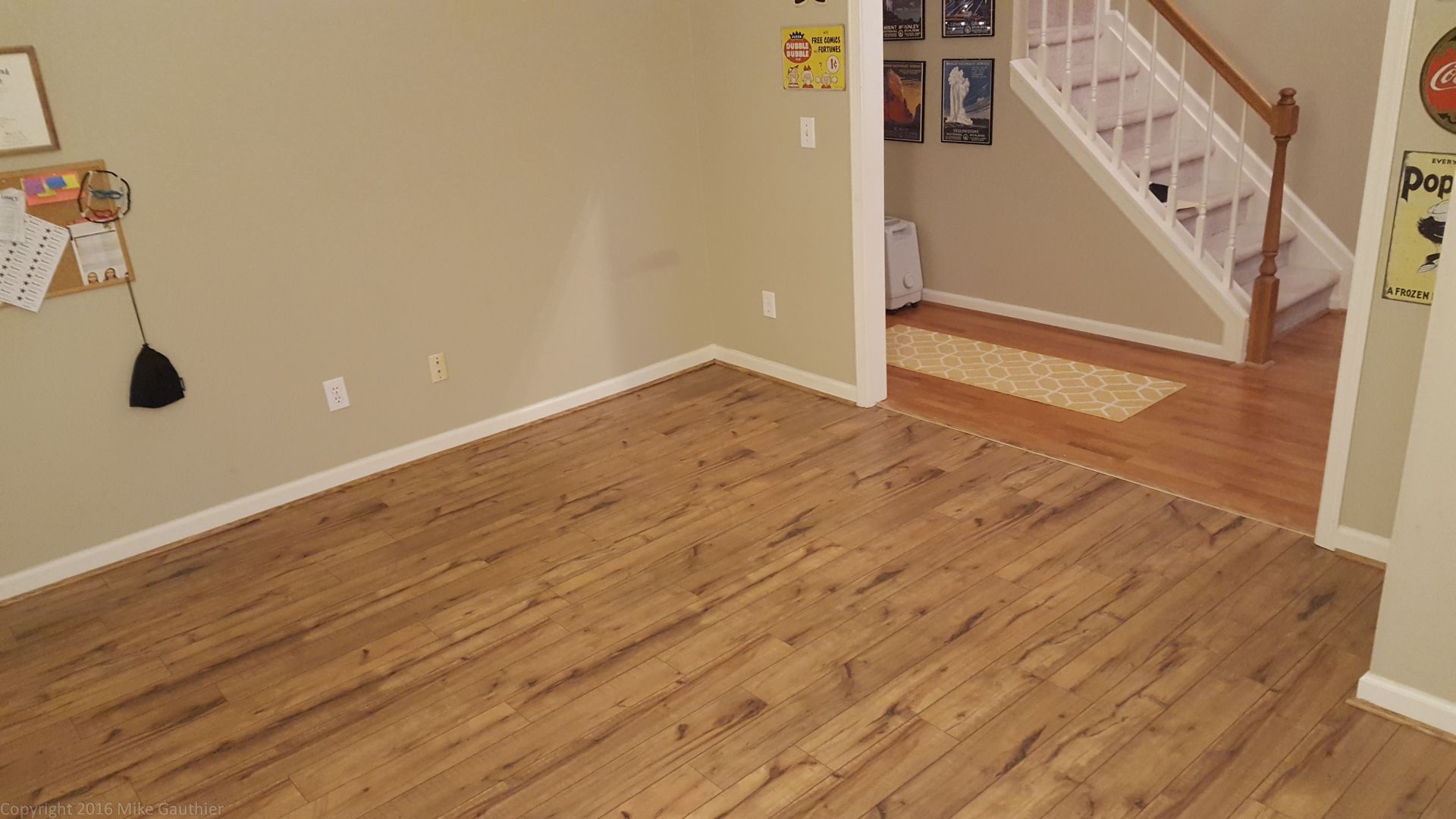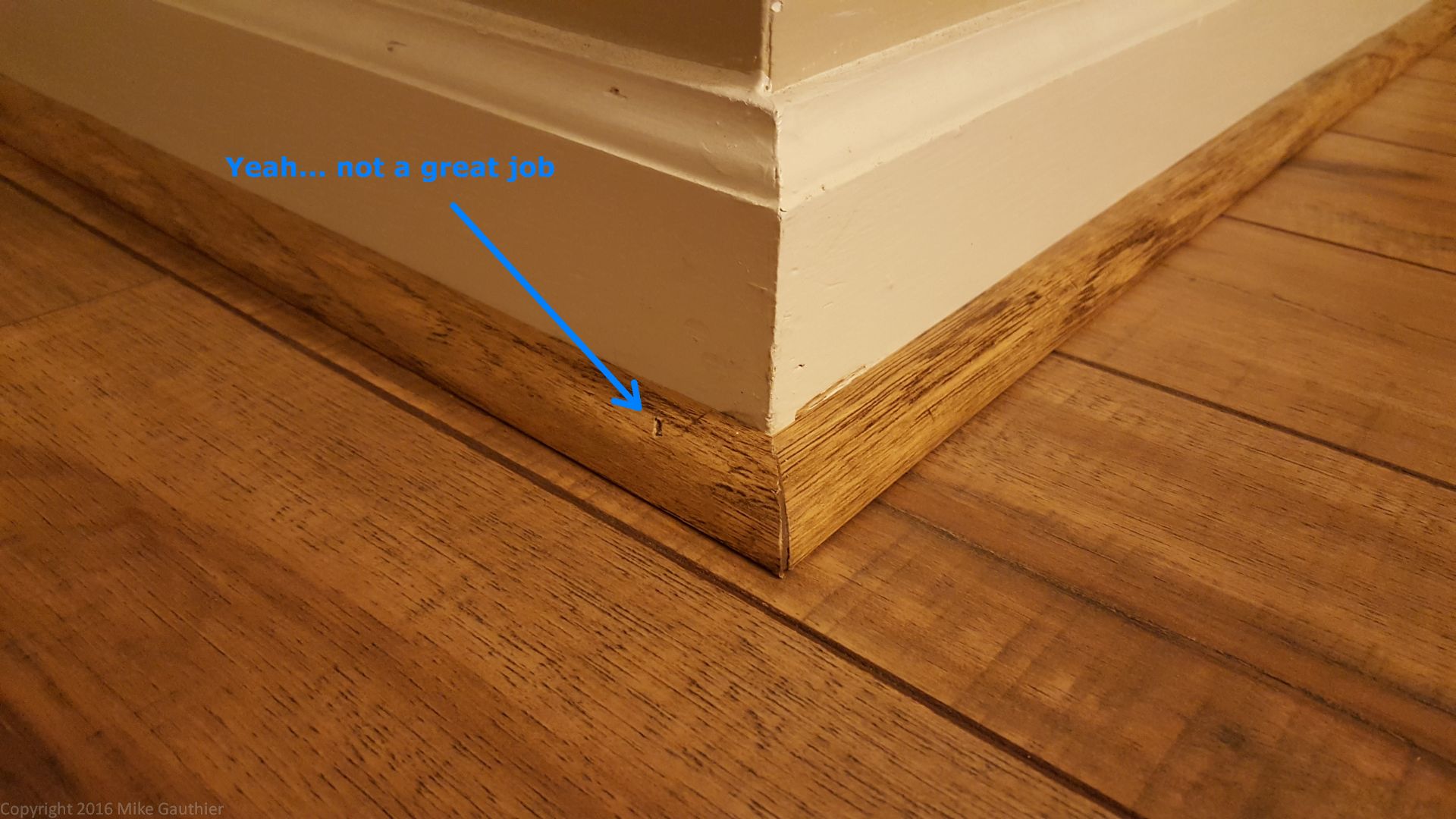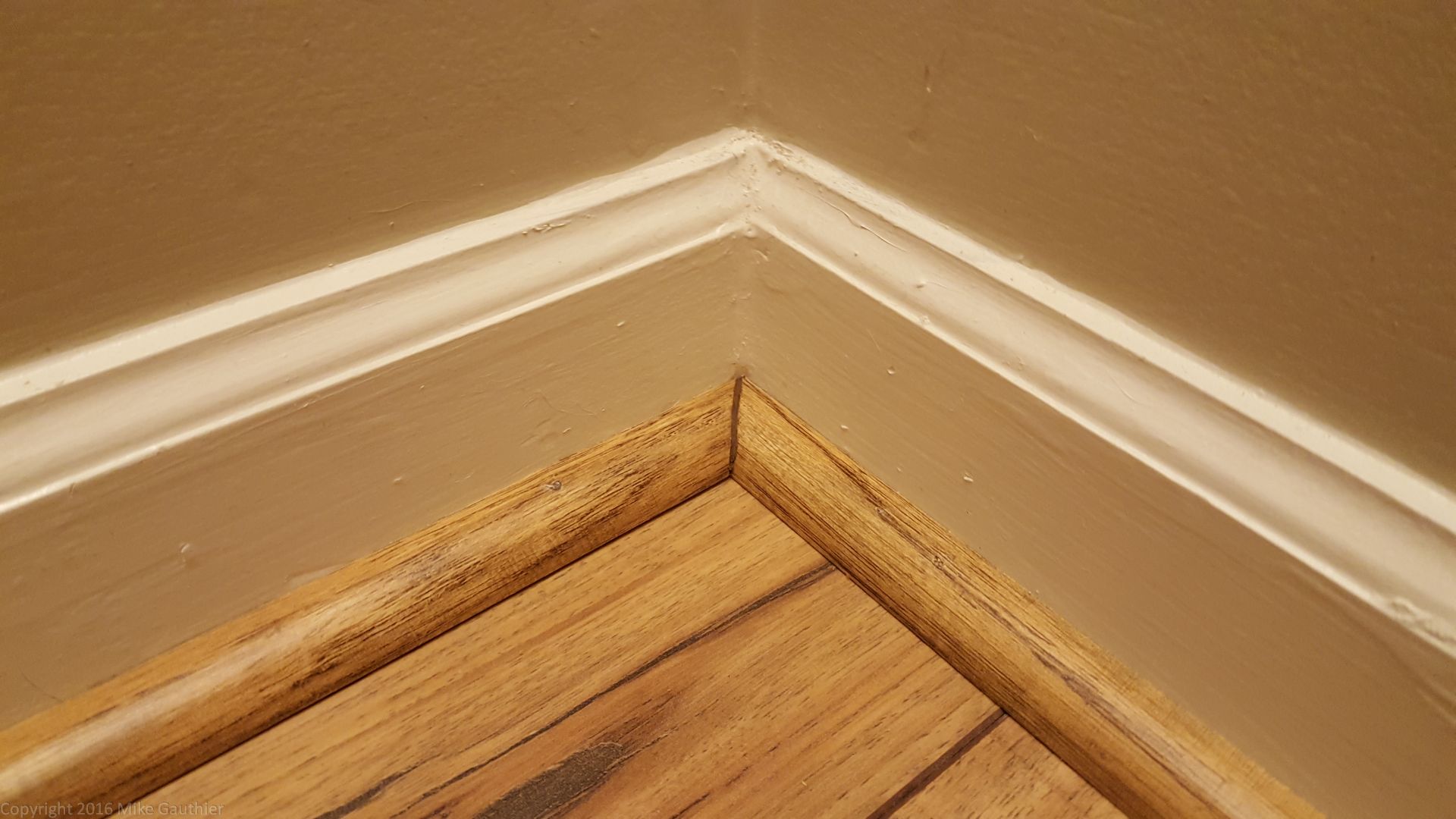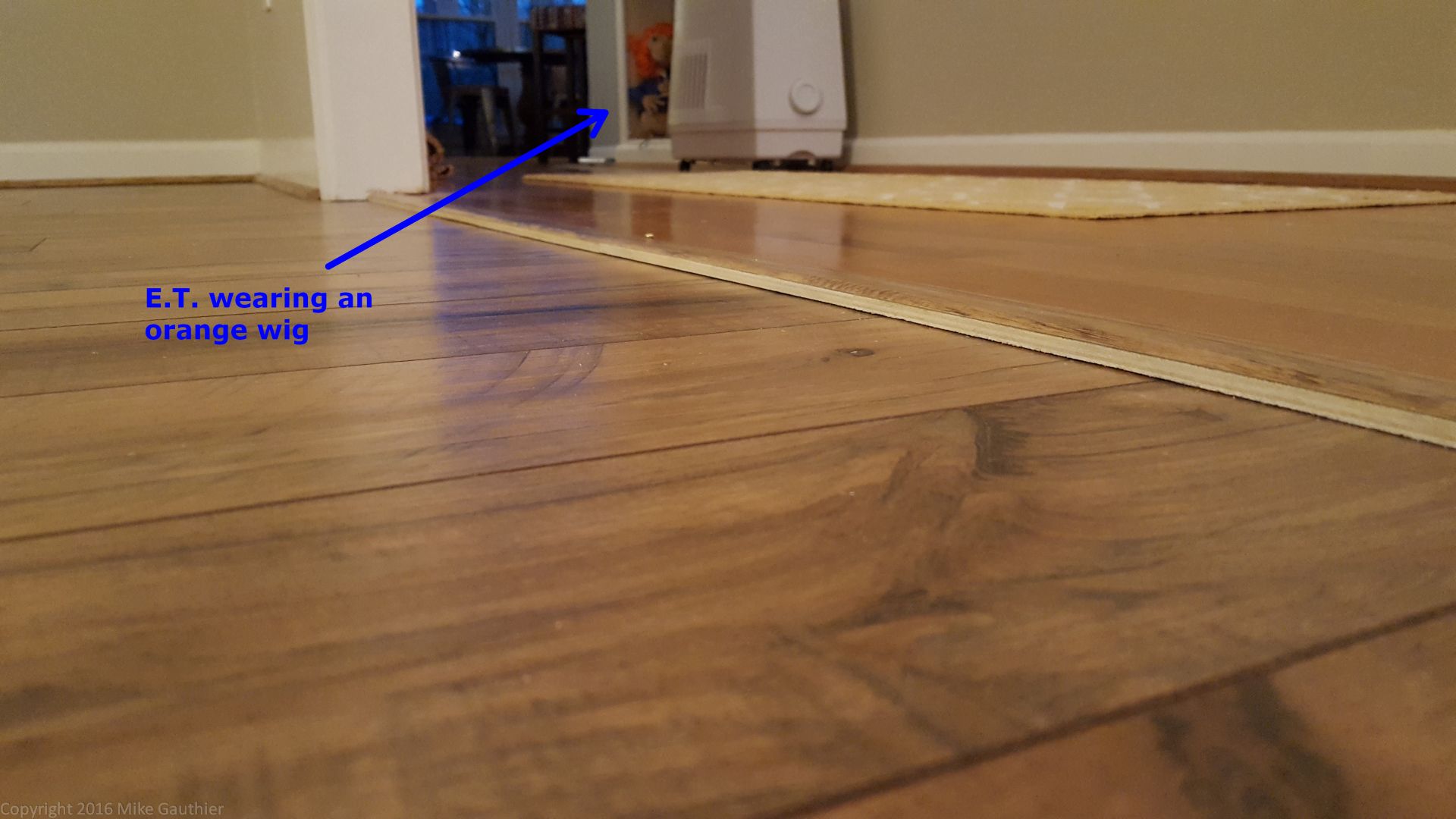 Tags: project-floor
January 01, 2017 — Mike Gauthier
ss3b is a simple backup system I put together to make incemental backups sane for me. You can read more about it on github, but effectively it makes use of incremental features of tar, some encrpytion, the AWS CLI tool, and some bash. You feed it a config and a list of directories to routinely back up, drop it in a crontab, and forget about it.
There are quite a few systems out there, but my goal was to use as many "default" system tools as possible. It does use a bit of bash specific code, but hey... it's bash.